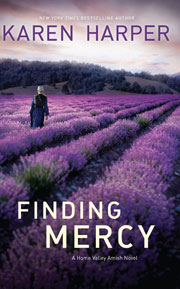 FINDING MERCY
Harlequin

Amazon
Barnes & Noble

RT Book Reviews TOP PICK, 4/12 stars: "This Home Valley Amish trilogy finale brings shades of the movie Witness to the page, in a pulse-pounding, man-and-woman-on-the-run adventure. You won't be disappointed in the ride!"
In FINDING MERCY, the last of the three Amish friends, Ella Lantz, is forced to leave the shelter of the valley and her precious lavender fields to go on the run to Florida and New York City with a worldly man she has come to love. Corporate whistle-blower Alex Caldwell was to be hidden with her Amish family until his high profile trial, but there is an even higher price on his head. Ella knows the one place he may be safe. But with Alex, everything changes. She is shocked to find she's fallen in love with him and that her life is endangered too. Their future together is forbidden, but they may not even live to give it a try.
A note from the author: Although this book is the third romantic suspense novel in this trilogy, there will be a book #4, UPON A WINTER'S NIGHT, set in the Home Valley at Christmas. This will be out October 2013.
I've include one recipe below from Debbie Cook's book A TASTE OF LAVENDER, published by Springbrook Meadows Publications, which Ella makes in the story. You can order the book at the above website.
Lavender Surprise Muffins
Ingredients:
2/3 cup sugar
2 cups flour
2 tsp. baking powder
¼ tsp. baking soda
¼ tsp. salt
¾ cup sour cream
1 lemon
2 eggs
1 tsp. vanilla
1 stick butter – melted and coloed
1 tbsp. poppy seeds
1 to 1 and one half cup lavender
lemon curd
Direction: Zest lemon and rub zest with the sugar to infuse. Add remaining ingredients (except curd) and stir just until combined. Fill muffin cups one half full and place a teaspoon plus dollop of lavender lemon curd on muffin mixture. Fill muffin cups with remaining mix, sealing up curd. Top with streusel topping and bake at 400 degrees for eighteen to twenty minutes.
Streusel topping: one-fourth cup sugar, one-fourth cup and two tbsp. flour, one eighth tsp. salt. Cut three tbsp. butter into mixture until crumbly.
---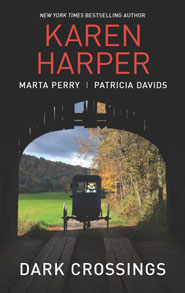 DARK CROSSINGS
Harlequin
Amazon
Barnes & Noble
Read an Excerpt

DARK CROSSINGS is an anthology of three novellas by three writers who specialize in Amish romantic suspense. Marta Perry, Patricia Davids and I had a great time talking out how we would connect our separate stories.
In my story, The Covered Bridge, rebellious, former Amishman Ben Kline returns home after eight years. Since he has been shunned, he is forbidden to Abigail Baughman. But she was in love with Ben years ago and welcomes him with an open heart. Mysterious happenings put Abby in harm's way, forcing Ben to run to her rescue. Suddenly everything is at risk—their community, their way of life, their future together, and their very lives.
One fun thing about writing this novella was the chance to set it in the Home Valley where I have placed my Amish trilogy, FALL FROM PRIDE, RETURN TO GRACE and (coming in November of 2012) FINDING MERCY. Characters from those books make cameo appearances in The Covered Bridge.
---
BOOK 2 IN
HOME VALLEY AMISH TRILOGY

Harper's Home Valley trilogy continues with a strong installment that deals with one woman's struggle between wanting to make it in the outside world and staying with what she has always known. The author's likable, engaging characters and a strong plot lend additional strength to her ever-amazing description of Amish life.
–RT Book Reviews, March 2012
Amazon Kindle
Barnes & Noble Nook

See Hannah Esh's Favorite Recipe for Oatmeal Chocolate Chip Whoopie Pies
---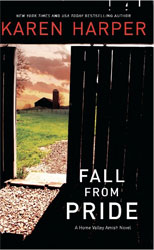 Book #1 in Amish
HOME VALLEY TRILOGY
Amazon Barnes & Noble


"Danger and romance find their way into Ohio Amish country in a lively and endearing first installment of the Amish Home Valley series by Harper (Dark Angel). Sarah Kauffman is an artist who paints murals on barns in her Amish community. When one of the barns mysteriously burns down, the local papers are quick to print the story. State arson inspector Nate MacKenzie drives down to Columbus to work on the case. He and Sarah make an unusual duo—Nate, the outsider with little knowledge of Amish culture, and Sarah, the Amish woman who often feels like an outsider in her own village. As they discover clues about the crime, they also come to know more and more about one another. Soon, disguising their feelings of attraction proves to be just as difficult as solving the mystery of the barn burnings. Sarah is both tough and sweet and Nate's charisma is hard to deny. Readers will likely enjoy a trip into the heart of Ohio's famed religious community and may be tempted to find out what lies ahead for this unlikely crime-solving couple. (Aug.)"
-- Publisher's Weekly, June 6, 2011

About fabulous Amish food: Although my Amish novels are romantic suspense, I do pay homage to great Amish cooking in each book. Book #1 features half moon pies, a fabulous but very practical dessert. Book #2 (RETURN TO GRACE, coming March 2012,) features Whoopie pies. I'll be including links to recipes for these special treats here on my website.
The best information and recipe I've found for Amish Friendship Bread is at a great website, http://www.armchair.com/recipe/back002.html.
Lydia's mother in UPON A WINTER'S NIGHT specializes in this delicious bread and you can too. Enjoy a piece of it while reading a Karen Harper book!
Hannah Esh's Favorite Recipe for Oatmeal Chocolate Chip Whoopie Pies
2 C. brown sugar
¾ C. shortening, softened not melted (Don't replace shortening with butter or you will get a harder, flatter cookie.)
2 eggs
½ teaspoon salt
1 teaspoon cinnamon
1 teaspoon baking powder
1 teaspoon baking soda
3 tablespoons boiling water
2 ½ C. flour
2 C. oatmeal, not instant
¾ C. chocolate chips
Cream sugar and shortening. Add eggs, salt, cinnamon and baking powder. Add baking soda, dissolved in the boiling water. Gradually stir in chocolate chips. Drop batter by heaping teaspoonful onto greased cookie sheet. Bake at 350 F for 8 to 10 minutes or until lightly browned.
Marshmallow Fluff Filling: (Place between two baked cookies as if making a sandwich.)
1 stick (1/2 C) unsalted butter, softened
1 ¼ C. confectioners sugar
2 C. marshmallow crème such as Marsh-mallow Fluff
1 teaspoon vanilla
Beat together butter, confectioners' sugar, marshmallow and vanilla in a bowl with electric mixer [[for the Amish it's generator-fed electricity]] at medium speed until smooth, about 3 minutes.
This version of the recipe is from Amish Heartland Recipes. This is a great magazine about the Amish. See their website at www.amish-heartland.com
Half-Moon Pies: The best recipe I've seen for these is on a great site for Amish cooking in general, www.amishrecipes.net. To find the half moon pies, use this link: www.amishrecipes.net/recipes.php/115/Amish-Half-Moon-Pie/Dessert. You can use other fruit fillings for these. Just follow the recipes for other pie fillings: peach, blueberry, cherry--yum.
Marta Perry, my friend and co-author of an anthology of Amish novellas which will be out next year, shared a similar recipe with me, although she cuts her crusts into six-inch, not eight-inch circles. She writes that these make an individual dessert that's good hot or cold, sort of like a dumpling, but not as messy. Happy eating and reading!