Welcome!

| | | |
| --- | --- | --- |
| | | |
| February 27, 2018 | November 27, 2018 | May 28, 2019 |
Here's a sneak peek at Shallow Grave
Hear Karen give a 4-minute reading from SHALLOW GRAVE.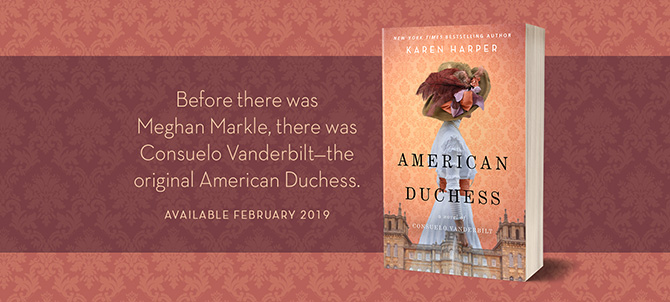 TO LEARN MORE ABOUT THE ORIGINAL AMERICAN DUCHESS, GO TO THE HISTORICAL SECTION.
AMERICAN DUCHESS HAS BEEN CHOSEN BY WOMAN'S DAY MAGAZINE AS
ONE OF THE MOST ANTICIPATED NOVELS OF 2019

https://www.womansday.com/life/entertainment/g25326041/best-books-2019/?slide=9


ALSO AVAILABLE IN THE SOUTH SHORES SERIES
| | | |
| --- | --- | --- |
| | | |
| | January 31st, 2017 | April 18, 2017 |
Here's a sneak peek at Chasing Shadows:
https://sample-af4e68aca1613e7aae3efde57180a585.read.overdrive.com/?p=chasing-shadows-97e637
Here's a sneak peek at Drowning Tides:
https://sample-5ae00be1179a2c4a90a3d2dccdbc207e.read.overdrive.com/?p=drowning-tides
Here's a sneak peek at Falling Darkness:
https://sample-839017daf657fb0d46435bb2489cedd9.read.overdrive.com/?p=falling-darkness

More information about the South Shore Novels

The IT GIRLS

June, 2016
More Information



ABOUT THE AUTHOR:
A New York Times and USA TODAY bestselling author, Karen Harper is a former college English instructor (The Ohio State University) and high school literature and writing teacher. A lifelong Ohioan, Karen and her husband love to travel. Besides her American settings, Karen loves the British Isles, where her Scottish and English roots run deep, and where she has set many of her historical novels about real British women: THE ROYAL NANNY, THE IT GIRLS (Oct. 2017), and AMERICAN DUCHESS, yet to come.

The Harpers lived in SW Florida for many winters so her suspense novels, the SOUTH SHORES SERIES, are set in the tropics. These books include CHASING SHADOWS, DROWNING TIDES and FALLING DARKNESS with SHALLOW GRAVE and other titles coming in the future.

Karen's books have been published in many foreign languages and are available in print and ebook formats in English. Most are in large print and audio. She won the Mary Higgins Clark Award for her Amish-setting novel, DARK ANGEL. Karen has given numerous talks to readers and writers across the country. Her author collection is with The Ohio State University Rare Books and Manuscript Library.


For a complete list of Karen Harper's Books, click here.

Karen Harper Discusses Her Current Books


---
Photo of Karen Harper by Jeffrey A. Rycus
[Home] [Contemporary Books] [Historical Books] [Audio Books] [Privacy Policy]
All text copyright 2006-2019 by Karen Harper
Site design by Karen McCullough